Page 5 - GPS Back to School 2022 - English
P. 5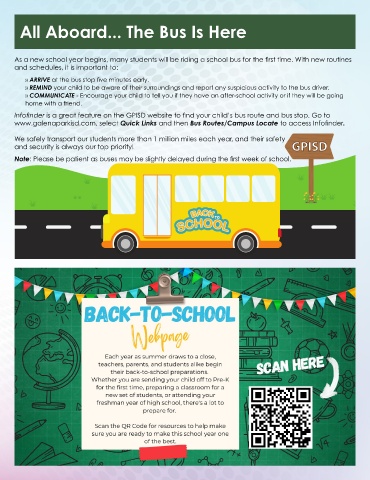 All Aboard... The Bus Is Here





      As a new school year begins, many students will be riding a school bus for the first time. With new routines
      and schedules, it is important to:

         » ARRIVE at the bus stop five minutes early.
         » REMIND your child to be aware of their surroundings and report any suspicious activity to the bus driver.
         » COMMUNICATE - Encourage your child to tell you if they have an after-school activity or if they will be going
         home with a friend.

      Infofinder is a great feature on the GPISD website to find your child's bus route and bus stop. Go to
      www.galenaparkisd.com, select Quick Links and then Bus Routes/Campus Locate to access Infofinder.


      We safely transport our students more than 1 million miles each year, and their safety
      and security is always our top priority!                                                    GPISD

      Note: Please be patient as buses may be slightly delayed during the first week of school.