Page 7 - GPS Back to School 2022 - English
P. 7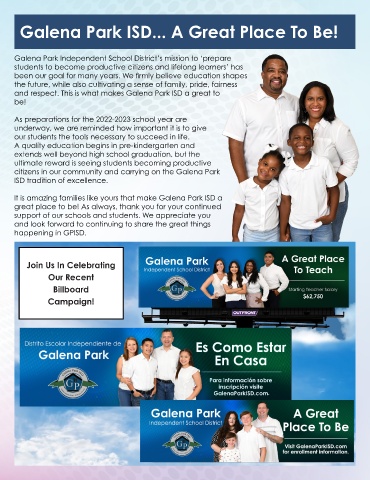 Galena Park ISD... A Great Place To Be!





      Galena Park Independent School District's mission to 'prepare
      students to become productive citizens and lifelong learners' has
      been our goal for many years. We firmly believe education shapes
      the future, while also cultivating a sense of family, pride, fairness
      and respect. This is what makes Galena Park ISD a great to
      be!


      As preparations for the 2022-2023 school year are
      underway, we are reminded how important it is to give
      our students the tools necessary to succeed in life.
      A quality education begins in pre-kindergarten and
      extends well beyond high school graduation, but the
      ultimate reward is seeing students becoming productive
      citizens in our community and carrying on the Galena Park
      ISD tradition of excellence.


      It is amazing families like yours that make Galena Park ISD a
      great place to be! As always, thank you for your continued
      support of our schools and students. We appreciate you
      and look forward to continuing to share the great things
      happening in GPISD.





          Join Us In Celebrating
                 Our Recent

                   Billboard
                 Campaign!